California legislature voted to pass the California Cooling Act on August 30th. HVAC – R industry has been waiting and watching for this bill to pass.
California is leading the way and it is anticipated that other states will soon follow. What is the California Cooling Act? Senate bill 1013 is the first of its kind, a statewide law that authorizes financial incentives for low-GWP (global warming potential) refrigeration systems that include natural refrigerants. The California Air Resources Board is now mandated to establish an incentive program to help companies overcome the initial cost burden to increase the adoption of replacement technologies in the supermarket and industrial sectors.
The bill also preserves the EPA deadlines established in 2016 requiring business to transition away from HFCs (Hydrofluorocarbons) – which is a main source of greenhouse emissions in California – to alternative refrigerants. Due to a US Court of Appeals response in 2017, the deadlines were abandoned by the Environmental Protection Agency earlier this year.
The California Cooling Act was introduced last year by Senator Ricardo Lara, at the United Nations Climate Conference held in Bonn, Germany. Senator Lara was named 2018 Person of the year by Accelerate America magazine. This act is in alignment with other bills championed by Lara like SB 1383 which requires a 40% reduction in HFC emissions by 2030. Lara and Governor Jerry Brown were awarded the Climate and Clean Air Award for their work on SB 1383.
"The California Cooling Act shows that cleaner air does not need to be a choice between protecting our planet and growing our economy," said Senator Ricardo Lara (D-Bell Gardens). "With Washington embracing climate change denial, California is filling the charging ahead to reduce super pollutants and do our part to fight global warming."
According to the Cooling Post, SB 1013 is expected to reduce HFC emissions by up to 17 million tons of CO2 equivalent annually by 2030. According to Avispa Mahapatra, EIZ's climate campaign lead, SB 1013 is anticipated to fill the gap created by federal regulations that have been abandoned due to the 2017 court of Appeals' response and is now on appeal to the Supreme Court.
Mahapatra states, "This landmark legislation demonstrates how states can champion tangible climate action by moving away from super-pollutant HFCs. In the United States, actions like this would enhance market uptake of climate-friendly technology by increasing economies of scale. Internationally, it will help the US stay on track to meet its global climate commitments, including under the Montreal Protocol's Kigali Amendment to phase-down HFCs globally."
Earlier this year California adopted EPA's SNAP (Significant New Alternatives Policy) rules, despite the court's ruling that the EPA does not have the authority to regulate greenhouse gases. SNAP was established under the Clean Air Act "to identify and evaluate substitutes for ozone-depleting substances." (Agency)
The California Cooling Act requires the Public Utilities Commission to consider "developing a strategy for including low-global-warming-potential refrigerants on equipment funded by the energy efficiency programs overseen by the Public Utilities Commission." (Legislature, 2018) The PUC has a long standing history of the implementation and execution of energy efficiency incentives for both residential and commercial applications. On the commercial side, the PUC programs include incentives for energy efficiency equipment, lighting, and retro commissioning, this will be the first program that specifically calls out incentives for low GWP refrigerant equipment.
HFCs are a type of climate pollutant that lingers in the atmosphere for around 14 years, long enough to be mixed into the atmosphere. This means that HFCs in one geographical location can affect the climate around the world. With the increased use of air conditioning and cooling, HFCs are the fastest growing type of climate emissions.
California has implemented several initiatives over the years to reduce emissions. Previous regulations and programs have resulted in a 4.9% reduction in carbon dioxide emissions between 2005 and 2015 according to the U.S. Energy Information Administration (EIA) California's greatest source for climate emissions stem from transportation. California ranks second for states with highest levels of climate emissions. When the data is viewed based on population, California had 17.1% decrease in energy related carbon dioxide emissions per capita. Oregon recognized a 21.7% reduction between 2005 and 2015 per capita and Washington state comes in with 24.9% per capita reduction in energy related emissions.
We have a long way to go to reduce our climate emissions to prevent further climate change. The sad reality is what we do today, what we have already done affects our atmosphere for thousands of years. If we stop emitting carbon dioxide now it will take many millennia to return to the climate we had in the first 50 years of the 20th century. (The Conversation, 2017)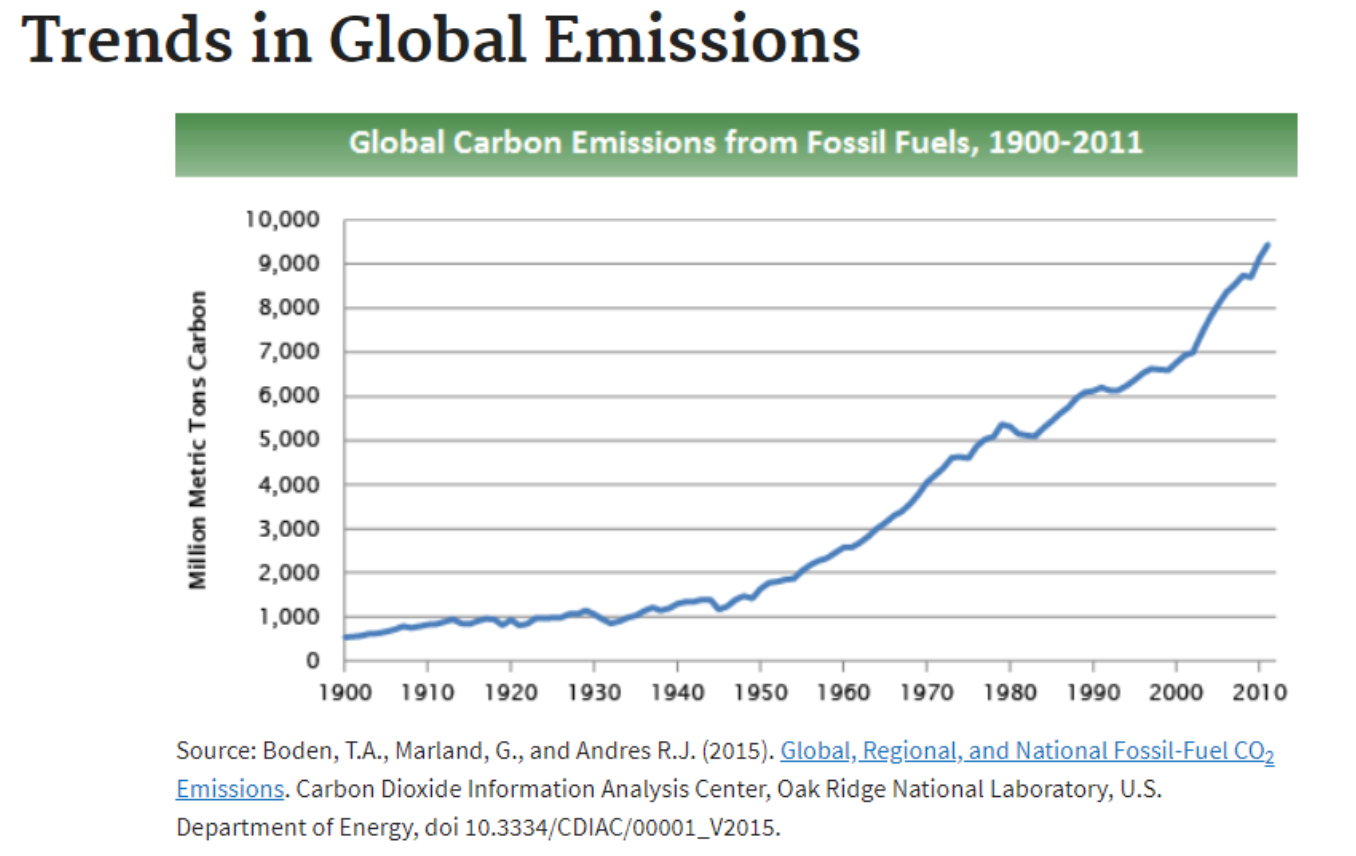 The climate effects we are living with now stem from emissions released decades ago. The reason for the lag in cause and effect is due to the time it takes to heat the oceans. According to a Princeton University-led research, published in the journal Nature Climate Change "even if carbon dioxide emissions came to a sudden halt, the carbon dioxide already in Earth's atmosphere could continue to warm our planet for hundreds of years."
This is a world-wide issue and requires efforts around the globe to protect our planet for future generations. Gareth Redmond-King, head of climate and energy policy at conservation group WWF said that at the current levels of emissions, "we'll have reached enough to warm by 1.5 degrees as soon as four years' time." Other scientists disagree with King's perception of global warming, but there is one consensus – we all need to do our part as individuals, businesses and governments to stop the continuing degradation of Earth's atmosphere.
The California Cooling Act is one more step in the right direction to protect and preserve our planet. As the National regulations are held up in court decisions, we hope to see other states follow California's lead in helping organizations reduce their carbon foot print through use of alternate refrigerants.
About the Company
R3 Retail Development is a leading turn-key energy optimization provider implementing first in class energy management programs to multiple industries across the United States. R3RD is known for exemplary customer service, automated processes and making it easy for our customers to do business with us. From concept to completion we strive to be the answer and solutions extension to your team for the development and implementation of your Energy Management Program. We believe in going the extra mile to provide transparency, innovation, communications and customer specific tools to make your projects successful and sustainable. R3RD has extensive knowledge and experience in refrigeration and controls design, installation, startup and ongoing performance optimization for Co2 Transcritical and secondary loop systems.
Works Cited
Agency, U. S. (n.d.). https://www.epa.gov/snap. Retrieved from https://www.epa.gov/snap
Legislature, C. (2018, February 6). Senate Bill 1013. Retrieved from California Legislature: https://leginfo.legislature.ca.gov/faces/billNavClient.xhtml?bill_id=201720180SB1013
The Conversation. (2017, July 7). Environment + Energy. Retrieved from The Conversation: http://theconversation.com/if-we-stopped-emitting-greenhouse-gases-right-now-would-we-stop-climate-change-78882